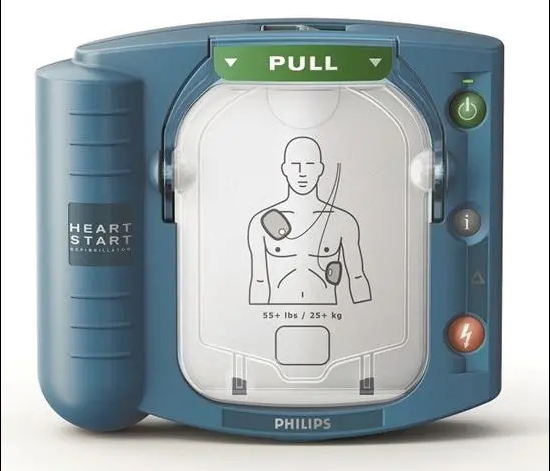 Defibrillation
Defibrillators
Philips
HeartStart HS1 - Designed for the ordinary person in the extraordinary moment, Philips HeartStart HS1 AED is ready to act and virtually ready to go. It allows anyone with little or no training to treat the most common cause of suspected sudden cardiac arrest (SCA) by delivering a shock quickly and effectively, wherever SCA happens. The HS1 AED provides practically real-time guidance through step-by-step voice commands from pad placement to performing CPR. When every minute counts, Philips HeartStart HS1 AED is the partner by your side. Side by side. Step by step.
HeartStart FRx - The Philips HeartStart FRx defibrillator features intuitive, step-by-step voice instructions, including CPR guidance, and an audible metronome to help guide basic life support (BLS) responders while treating a suspected sudden cardiac arrest (SCA) Pre-connected SMART Pads II can be used for both adults and children. Rugged, lightweight and reliable, it can withstand rough handling and extreme temperatures. When every minute counts, Philips HeartStart FRx is the partner by your side. Side by side. Step by step.
Zoll
AED Plus - The ZOLL AED Plus defibrillator with Real CPR Help technology helps rescuers to provide high-quality CPR and will deliver a shock if needed. Real-time CPR feedback on compression rate and depth gives lay rescuers confidence and clarity throughout the rescue.
AED 3 - The ZOLL AED 3 defibrillator features real-time CPR feedback, full-colour rescue images, a touchscreen display, and an integrated child mode, making it simple to treat both adult and paediatric victims of SCA. Designed with readiness in mind, ZOLL AED 3 includes long-life consumables and WiFi connectivity for remote monitoring of the AED's status.
CellAED
Your handheld, smart, personal defibrillator. Cell AED is designed to save lives from sudden cardiac arrest. An arrest can happen to anyone, anywhere, at any time. With CellAED, you can ensure there is always an AED nearby to save your life, or the life of someone you love, when sudden cardiac arrest happens. CellAED can coach people to provide CPR once in operation and on the patient.
Training Defibrillators
We stock Training Defibrillators that match each of the units above as well as the cost effective XFT Training Defibrillator.
Philips
Zoll
AED Plus and AED3 Trainers
XFT
This is a stand alone Trainer and is a cost effective option, whilst providing standard AED Trainer instruction.
CellAED
Get in Touch to Talk to Our Product Experts